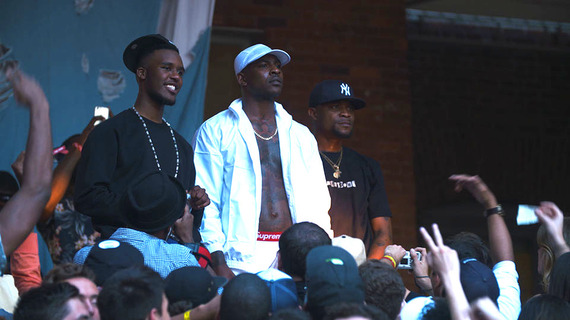 Grime act Skepta onstage on his American tour. PHOTO COURTESY- NOISEY.
The UK genre of Grime music has quietly been doing its own thing, minding its own business, not killing itself to make nice and play ball with the usual music gate-keepers, and this past year its blown up internationally.
International music acts like Drake and Kanye West have been shouting out British music genres and acts for years, and the latest British music star to get the American love-in treatment is Nigerian British soloist Skepta.

Jasmine with Skepta at his Top Boy world premiere.
(PHOTO COPYRIGHT- Paul Hampartsoumian.)
Originally a Tottenham based DJ; Skepta has been releasing music for years with his first big release in 2007. It's said that either 10 years or 10,000 hours of hard graft are needed before achieving initial success. So Skepta has proved that timing just about right.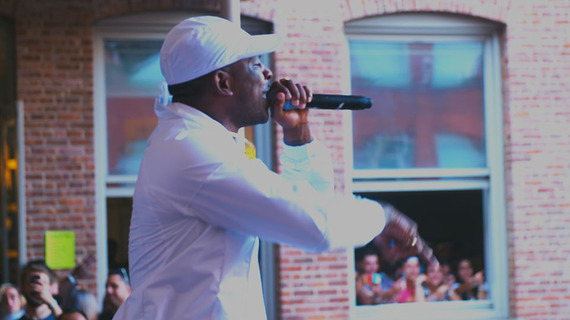 Skepta onstage in Queens, NY. PHOTO COURTESY – NOISEY.
Skepta has been releasing material to a variety of responses for years. With his Boy Better Know collective, who include other solo brand names like his brother JME, Jammer, on-off collective member Wiley and more, both singles like Rolex Sweep and mix tapes like BLACKLISTED have been quietly gaining him a respectful fan base and respect in the industry.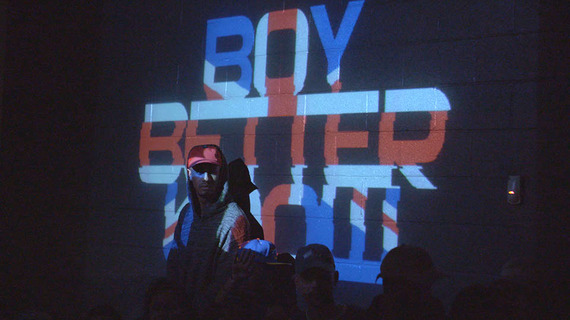 PHOTO COURTESY – NOISEY.
This week Noisey invited a special VIP audience to the world premiere screening of a documentary titled TOP BOY, at the vaults in Waterloo, where the audience was an oversubscribed, cool, new-media group, that included Chip, J2K, Jammer, Frank Ocean and music industry gatekeepers.

Jasmine with Chip, who turned out ton support his peer Skepta at the Top Boy doc.
(PHOTO COPYRIGHT- Paul Hampartsoumian.)
In the summer of 2015, the year that grime exploded into the mainstream, Skepta headed to America's east coast and Canada with some friends to play a sold out tour. Following him from New York to Washington DC and culminating in a performance at Drake's OVO festival in Toronto.
Top Boy is a film that documents Skepta's American tour. It's a fly on the wall roller-coaster ride from Queens to Washington DC, to Boston, Brooklyn and Toronto, where the BBK crew on a smoky testosterone-heavy tour bus, are all smoking weed, drinking Henney and making money rain. They all rock union-jack BBK t-shirts and a lot of Nike.
The only difference between the golden age of Puff Daddy and Skepta is the lack of women on the tour bus. Or at least that's what we were shown. There is a moment when a couple of females on the bus are ejected and ridiculed for calling Skepta ''Spectre'' a la James Bond. An understand error in the same month both a being heavily promoted to an American audience?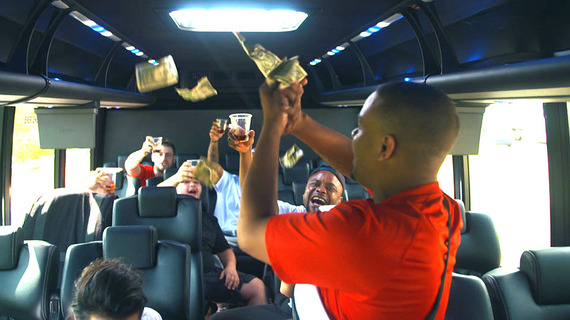 Skepta's tourbus. PHOTO COURTESY – NOISEY.
From the tour bus to the stage to downtime in the spa, behind the scenes footage features Skepta, Novelist, Krept and Konan, A$AP Nast, Frisco, Jammer and Shorty.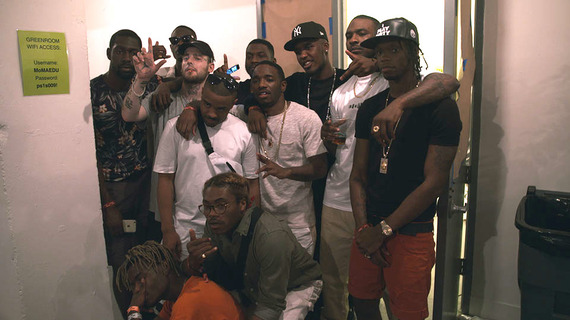 Skepta and friends. PHOTO COURTESY – NOISEY.
The American audiences love a new, hot trend and the doc footage showed them in each city wildin out and moshing madly in a rampage. American fans who were vox-popped enthused '' "He speaks very clearly on his records. He has fast as hell lyrics. They're real London boys. "He's Nigerian I'm Nigerian. He's real not flashy". Even Londoners who now live out in the USA stop him on the streets to say how proud they are.
Skepta told me before the screening that he loved making it but after months on the road he was tired.
He said, ''We stuck to what we believed in". When visiting the Whitehouse he was in awe "it had a mad energy around it".
Unfased by the current attention by the world, Skepta says he wants to make an impact when he looks back and asks "What did u do when it was your time?"
After the film, there was a Q&A session with Skepta and Noisey Exec Producer- Alex Hoffman, hosted by music journo Hattie Collins.

Top Boy Q&A Panel…Skepta / Alex Hoffman / Hattie Collins.
(PHOTO COPYRIGHT- Paul Hampartsoumian.)

Jasmine with her old MTV colleague, now Noisey Exec Producer- Alex Hoffman.
(PHOTO COPYRIGHT- Paul Hampartsoumian.)
Alex Hoffman told me more;
Why has Noisey as a brand chosen to champion the grime music scene? What makes it a win-win decision for you?
For us it's about the musical output. We've always loved grime (5 years ago one of the first things I ever did at VICE was make short films with Wiley and Tempa T) and right now pretty much everyone in the scene is making the best music they ever have. If you go to a grime event, most of the biggest tracks were made in the last year. Some in the last few weeks. We want to be reflecting what we think young people in the UK are passionate about. A nice bonus is that so many of the key players in grime are not only smart and insightful in interviews but sometimes hilarious as well so they make for great documentary subjects / hosts.
Skepta mentioned that he trusts and respects you so he knew TOP BOY would be good/positive.
It was very flattering what Skepta said but I don't think he meant it as a personal thing, rather a testament to some of the work the whole Noisey team have put together over the past few years around the world.
How much has social media and artists now being able to control their own PR/MKTing, has made brands like Noisey have to adhere to a loose ''editorial approval'' relationship with music acts?
You're right in that things have changed since our days back at MTV in terms of more power being with the artists but we don't generally agree to things where artists camps have editorial approval as we have our brand – and its distinct voice – to protect and the last thing we want is pieces that feel like dry label EPKs. This was a different situation as it was a collaboration and Skepta is a director in his own right so it felt natural for him to be involved in the editing process. He has great taste and good ideas so we benefited from it.
Did you know before shooting began that the USA crowd reaction would be so big?
It wasn't the size that surprised us as much as the reaction of the crowd. The energy! We thought there'd be people there as a lot of people were talking about Skepta at the moment but we didn't expect kids going nuts, moshing, shouting 'BBK,' rapping every word and not just the big singles, a lot of them knew his lesser known material and were rapping along to other grime tracks during the DJ sets before he came out.
The intimate camera access by your shooter was brilliant. How do Noisey afford to make these fresh, edgy fly-on-the-wall docs when mainstream brands like MTV can't afford to/choose not to anymore?
We are passionate about immersive documentary filmmaking and make it our priority. We'd rather not make anything for a while and not feel the necessity to fill up the internet with content for the sake of it and then put all our love and effort into something a bit deeper like this.
Ending the evening Skepta said even though a lot of lights been shone on him this year, new technology has changed the game "everybody's popping right now. It's a worldwide thing. Big up the internet,our scene has birthed loads of stars, Everyone's celebrating. It's a good time and I wish everyone the best who's in it. This is all we wanted… to put out music and everyone to hear it"